Google Fuels Gas Price Wars!
Every drive across town to save a dime a gallon on gas? Sometime it would cost as much in gas as you saved but what the heck, a good low price often also gave you bragging rights.
These days with lower gas prices this is not as big a deal, but just wait. Higher prices will eventually return. When they do, people will be saving gas searching for lower prices, but just checking Google.
Just this week, Google added price per gallon to the Google 3 pack and Google Maps.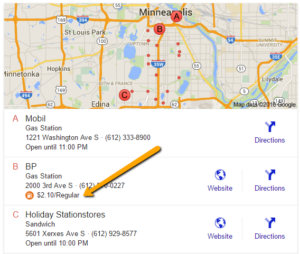 Just where Google is getting its information to fill in the price is a mater of conjecture. So far no one I know has been able to identify the source.
I note in the Twin Cities area, it appears Holiday Stations are not showing prices except for one station I found in West St Paul, that did.  I do see most of the majors and it seems some independents as well.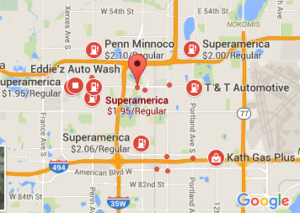 On the Google MAP to the left, you can see that prices are marked on the map. That will certainly make the price wars a lot hotter for those who seek the best price nearby.
Google offers even more information that may be useful when shopping for gas. I like the fact that you can even pick the best time of day to get gas without waiting in line. By the way this is the listing from the one Holiday Station store to show prices during my search today.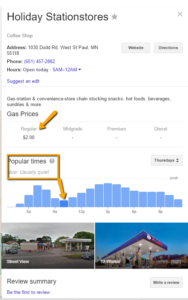 Now most individual gas stations don't spend the time to get on the Google 3 pack, and that may prove eventually to be a big mistake. _Unless they have high prices.
It would seem that the low price independents who specialize in low price would very much benefit from taking the time to work their way into the Google 3 pack. And if they could also work a way to generate positive business reviews they would stand to gain a ton of new business from travellers in addition to the regulars who already know they are the local low price resource.